What are tisanes (herbal infusions)?
A tisane (tee-zahn) is the French term for an herbal infusion (often erroneously called an 'herbal tea'), and is any infusion made from a plant other than tea. These are very popular beverages in many countries, and some examples are Lemon Balm, Chamomile, and Rooibos. Infusions of dried fruit are also referred to as tisanes. While still more popular in Europe than North America, tisanes are nevertheless a large portion of the infused beverage market. In the sub menu we will highlight some of the more common tisanes.

Some example tisanes:
Rooibos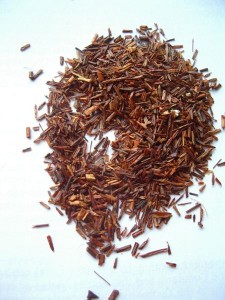 Rooibos, which is Afrikaans for "red bush," (scientific name Aspalathus linearis) is a member of the legume family of plants and is used to make a tisane (herbal tea) also called rooibos. Sometimes called african red tea (erroneously, as it is not from the tea plant) , rooibos has been popular in South Africa for generations and due to its putative health benefits, lack of caffeine, and rich flavor, its popularity is growing worldwide.
Rooibos is a rather unique plant, growing only in a small region of the Cederberg Mountains of the western cape province in South Africa. The plant's leaves resemble small pine needles, and they are harvested, cut, and oxidized and turn a reddish-brown color when ready. One can also find 'green' rooibos that has not been oxidized, however this is still somewhat reddish in color.
Rooibos is commonly served with milk and sugar in South Africa, but often served plain elsewhere. It is also served chilled, similar to iced tea, and sometimes mixed with fruit juice. The brewed liquor has a somewhat sweetish taste, and due to the lack of tannins, can be steeped for long periods of time (and is often boiled for 10 minutes to extract maximum flavor).
Rooibos is gaining in popularity due to its high levels of anti-oxidants, especially one called superoxide dismutase (SOD), which is one of the strongest antioxidants identified. Its lack of caffeine and tannins also offers a favorable nutritional profile for anyone seeking an alternative to tea or coffee. It is also given to colicky infants in South Africa as a remedy, and sometimes added to bathwater to alleviate particularly dry skin. It's extracts are even being included in cosmetics and salves due to its purported health benefits for skin.
By itself or incorporated into blends, rooibos has come far from its roots. What was once a medicinal herb known only in a small region, rooibos has now become popular worldwide, and can be found served in almost any way imaginable. From rooibos tea to rooibos espresso, this subtle yet robust tisane is experiencing dramatically increasing demand from drinkers worldwide and is well worth the effort to find.